Black Steel is the new black.
The Hisense Black Steel series offers an exclusive colour finish to complement your modern kitchen, combined with the latest in cooling technology and premium design. Available across multi-door, american side-by-side and combi fridge freezers, Black Steel is available for all.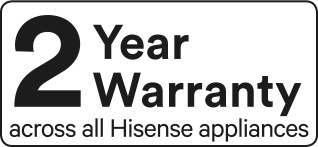 All Hisense Black Steel Fridge Freezers include a 2 year warranty as standard to give you complete peace of mind with a product that's built to last, as well as a stylish finish to match your modern kitchen.
Have a question about our products?
If you would like to know more about our products, simply click here to visit our support and FAQ pages.
Click here
Because who wants to be
out the loop?
Sign up and you'll never miss our offers, new products or updates.