Hisense are committed to achieve GHG emissions reduction by 2022
The breakthrough of technology brings high quality in products and technology development. Hisense home appliances are insisting on continuous attention "Green Design, Green Procurement, Green Manufacturing, Green Logistics, Green Recycling", helping accelerate the green transformation of the household appliance sector.
We have announced our commitment to set targets to reduce 230,000 tons greenhouse gas (GHG) emissions in 2022 and release its sustainable development video "Hisense, Towards a Greener Future".
Our manufacturing system has been reduced by 76,000 tons of carbon dioxide emissions in 2021.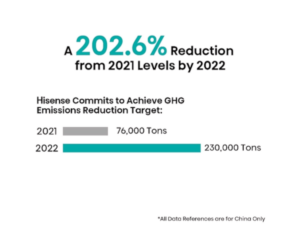 In 2022, Hisense will continue to implement "Green initiatives, create prospects ", including the substantial use of environmentally friendly materials, use solar energy as an alternative to the traditional high-pollution coal-fired power, simplify the production manufacturing process through the Rapid Thermal Cycle Injection technology, add the marking of single‑use plastic products to increase the efficiency of utilization of the refrigerator parts, etc.
The COP26 Summit formally began with the gathering of 200 countries discussing actions to protect and restore ecosystems. Driven by green technology, Hisense continues to integrate environmental protection initiatives in all aspects of manufacturing, supply chain, and developing energy-saving products.
Greener Technology
Since 2018, Hisense reduced HFC-245fa through technology innovation, reformed its refrigerator production using foaming technology and lowered greenhouse emissions. As a result, it decreased approximately 5847.3 tons of CO2 emissions. Furthermore, in 2021, United Nations Development Program(UNDP) publicly appraised the technology as an eco-leader in the fridge industry.
More Energy Saving
Hisense has now lowered the power consumption of a 100-inch Laser TV to around 250 watts, while the LCD TV of the same size has a power consumption of more than 800 watts. In the future, Hisense will reduce the energy consumption of 100-inch Laser TV to under 200 watt.
Sustainable Manufacturing
Hisense strictly follows the principles of energy conservation and environmental protection at all stages, from raw material selection to production and processing. For example, when Hisense manufactures a
Along with the COP26 conference, CNBC launched the CNBC ESG Council, a roundtable summit attended and discussed by the CEOs of the world's most prominent companies. Speaking beforehand, Hisense President Jia Shaoqian, a member of the CNBC ESG Council, shared his insights and actions on technological innovation and sustainable development with global audiences.
President Jia also stated that, as a company with social influence and fulfilment of social responsibility, we should always focus on ESG, achieve the goal of being green, healthy, low energy consumption and environmental protection. Meanwhile, without sacrificing the environment, achieving sustainable development with greener, healthier, lower energy consumption and better environmental protection.
Sustainable development is a long-term endeavour for Hisense. Internally, Hisense adheres to a long-term initiative of building a better environment for enterprises and employees. Externally, we fulfil environmental protection and social responsibility to ensure that consumer rights and the world environment are protected.
Love Food Hate Waste
Continuing to support the fight against Food Waste, Hisense UK launched a creative campaign to support WRAP's Food Waste Action Week 2021. So much goes into every single piece of food that we eat. Wasting that food feeds climate change. WRAP is a climate action NGO working around the globe to tackle the causes of the climate crisis and give the planet a sustainable future.
WATCH FULL VIDEO