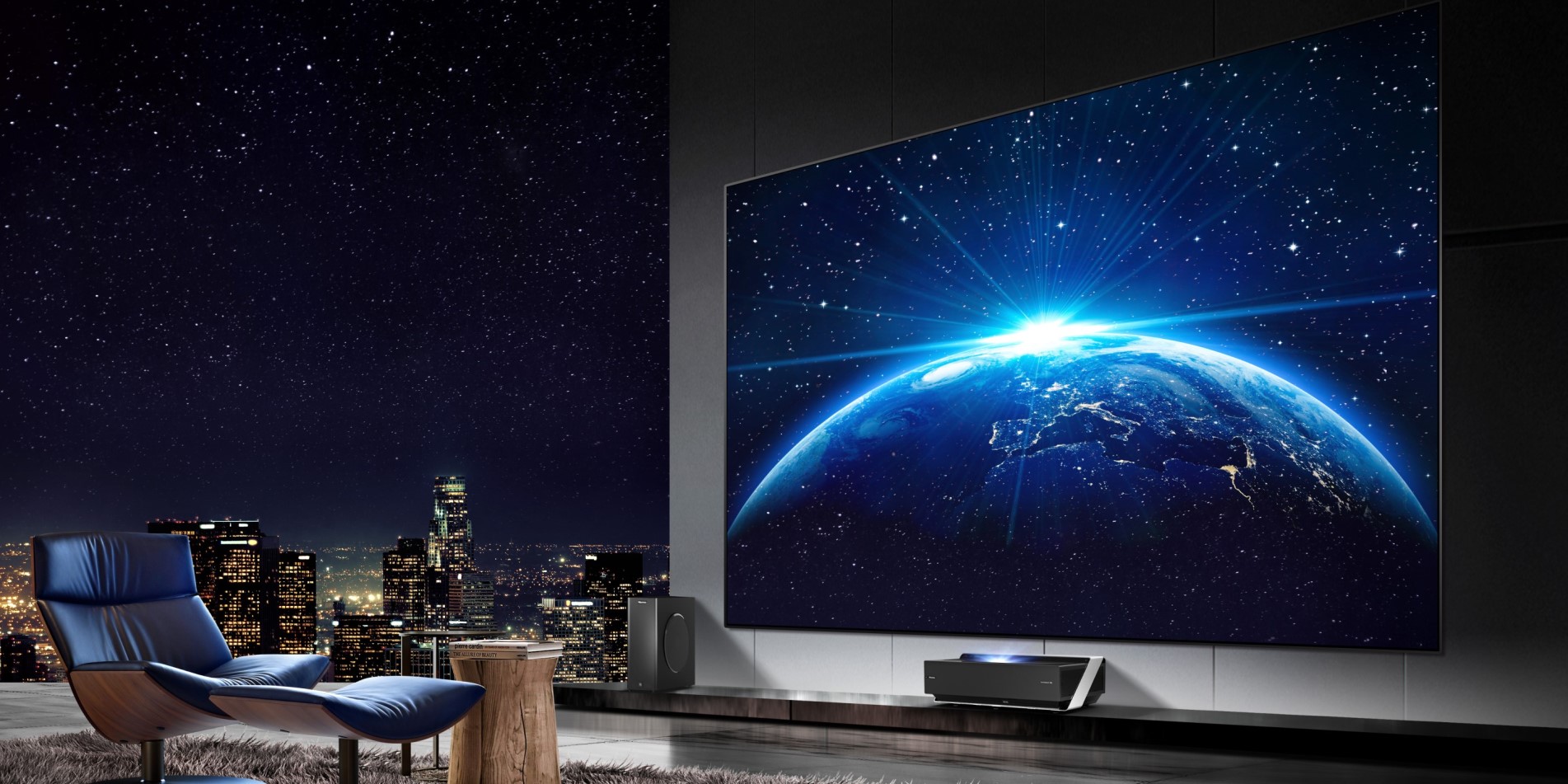 Welcome to the
Hisense Laser TV Hub
Enjoy everything
on the Big Screen
Rethink how you watch your favourite shows with Laser TV, bringing a new type of cinema experience to your home. Forget complicated, big screen installations, Hisense Laser TV utilizes a thin and lightweight screen that hangs effortlessly to display breath taking 4K Ultra HD resolution. The ultra-short throw console can project the image from only 20.8cm from the wall, offering a more natural viewing experience without the need for a specially darkened room. The Hisense Laser TV achieves incredible audio performance to bring every scene to life too, with deep, rich bass and clear highs.
Featured Laser TVs
Register your interest in the Hisense
Hassle-free installation
With all Laser TV purchases, we offer a professional installation option. Leave the complicated installation process to us, simply add the installation add-on to your purchase, or follow the link below to have the Laser TV you already have installed, and we'll get you up and running. T&Cs apply.
What is Laser TV?
Hisense are pioneers of this technology and their products offer perfect 4K picture quality generated by an Ultra Short Throw Laser.
When it comes to Laser TV technology, Hisense is leading the way, with the aim of creating an impeccable home cinema experience. With the 4K Ultra HD and over 8 million pixels, the Hisense 100′′ L5F laser TV brings moving images to life with incredible detail, and with HDR, images appear with sensational depth that produces razor-sharp detail and contrast. All this visual excellence combines with Dolby Atmos to complete the home cinema experience.
How is the picture quality so good?
The X-FUSIONTM Laser light is narrow, so the light wave is pure and light transmission is not bothered by dispersion problem, which leads to more natural colours with high purity and saturation. It utilises a blue laser light source to razor sharp, precise images with stunning details while avoiding unwanted light dispersion and offering a more natural viewing experience. So, you can enjoy over 25,000 hours of high-picture-quality entertainment.
So, why purchase a laser tv?
Purchasing a Laser TV is an investment. We have designed our Laser TV/Cinemas to be used daily, as such they are able to replace an existing TV if you are looking to upgrade to a supersize screen. Key features that are available on Hisense units offer you more: TV Tuner – ability to watch live TV – not just via an app but with Freeview Play Smart TV Functions – Stream Netflix, Prime Video, iPlayer and more 4k HDR 10 Screen Included – for optimal picture viewing Lightweight – versus the equivalent LED
25,000+ Entertainment hours
aX-Fusion technology adopts precise light sources to ensure 25000+ hours of entertainment and the watching over 10,000 movies*. Making your viewing experience full of unparalleled realism.
How does an ALR screen work?
An ALR screen works by selectively reflecting light back to the audience. This effect is achieved by positioning the projector and screen in such a way that the projector's light is bounced towards the audience, while the other light in the room is reflected back in some other direction. In our range we have two ALR Screens; our 100" ALR Screen has been designed for watching at any time of the day, in any room, the ultra short-throw Laser TV projects a breathtaking 4K picture onto an ambient light rejecting screen that is anti-reflective to external light sources. Allowing you to see every detail even in bright conditions.
Fits
anywhere
Ultra Short Throw Laser TV, from only 28.7cm to the wall, it is very easy to install and fit in your living room.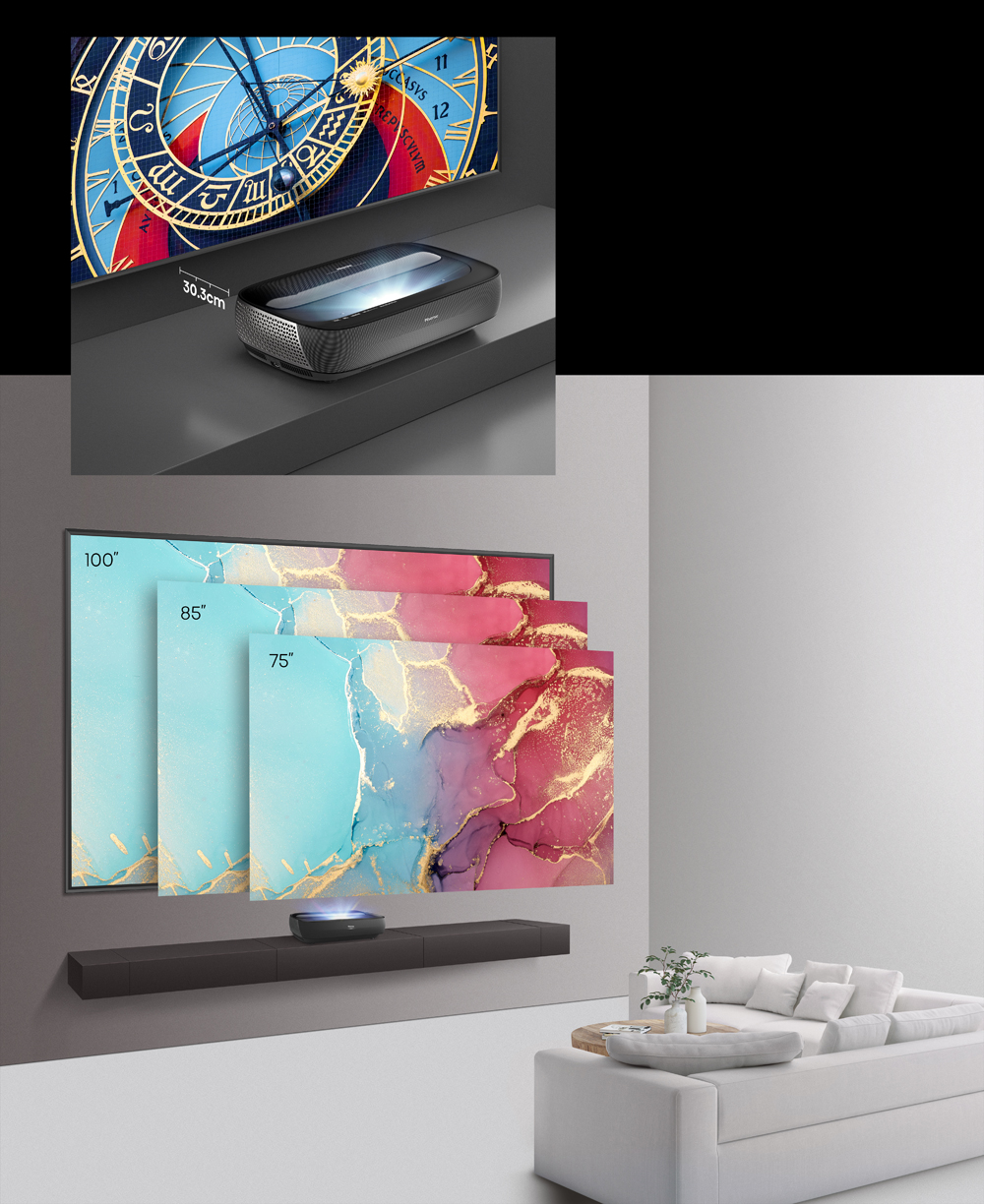 Enjoy 100" Big screen entertainment
The ultra short throw Trichroma Laser TV projects a colourful and bright 4k image onto a 100" ambient light rejection screen design for watching in any room of the house.
In the Laser display system, the lens assumes the function which projecting the image from the imaging chip to the required screen size. After the light reflects the image through the DMD chipset. We need super-resolving capabilities lens to project the pictures to the extra large size screens (100'', 120'' or more) without distortion, now Hisense laser TV adopt these precise ultrashort lens to ensure brightness, colour and uniformity.
The optical lens which Hisense Laser TV adopted has a 10 microns design precision and a 5 microns processing precision, 5 microns is equivalent to one-twentieth of our ordinary hair, only SLR camera lenses can match it, it is very precise.
How much space do I need?
Whether you go for 100" or 120", you'll be getting a truly cinematic experience in your living room. But how much space do you need? Here are the key dimensions you need to know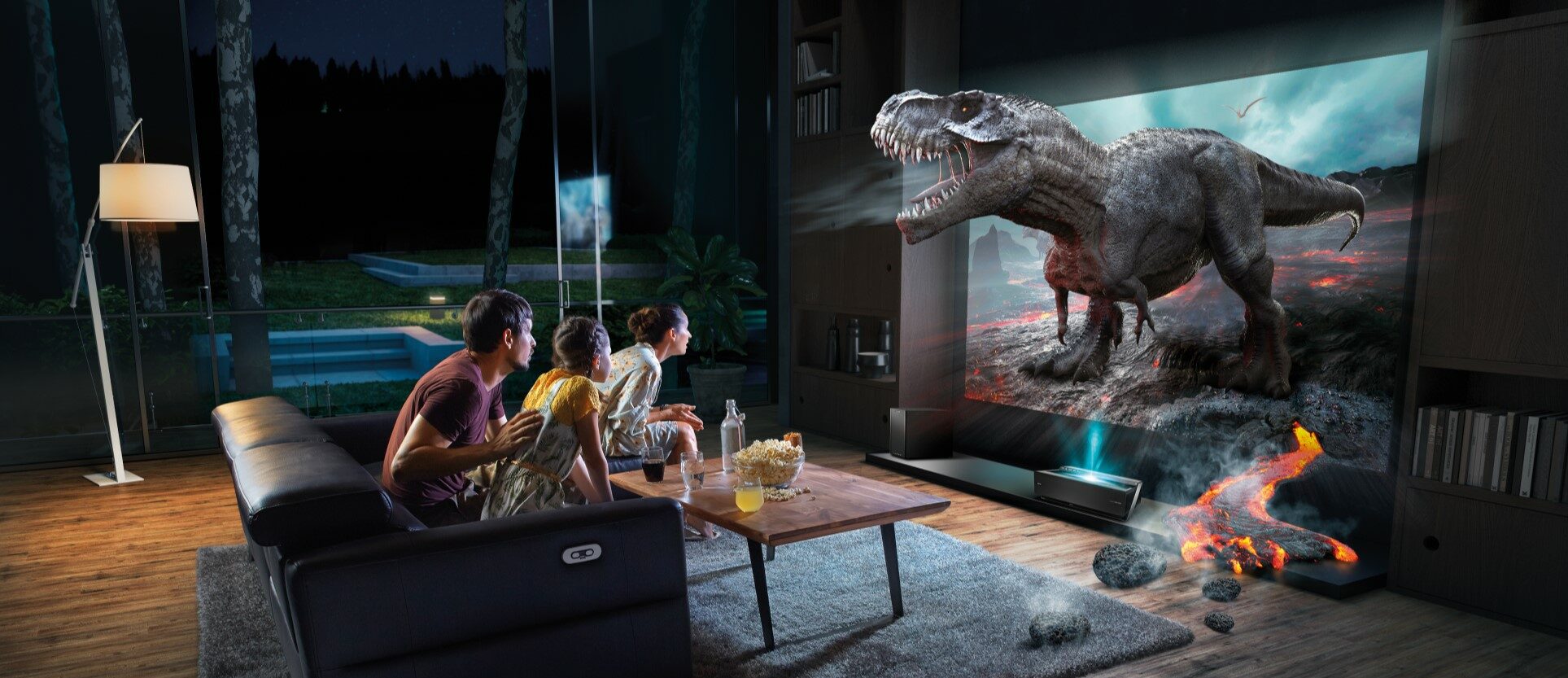 See it for yourself instore

Learn more about Laser TV on
our blog
Not sure how Laser TV works?
Because who wants to be
out the loop?
Sign up and you'll never miss our offers, new products or updates.