All the functionality you need, in 3 stylish colours.
Available in 3 stylish colour options, The Hisense RB327, available in white, silver and black, would make an eye-catching addition to any style conscious kitchen. But, it's not all about looks… The control dial that gives you full control over the fridge's temperature, an efficient LED internal light, stylish wine rack and Total No Frost with Multi Air flow for even temperature distribution which means you never have to worry about defrosting your freezer ever again.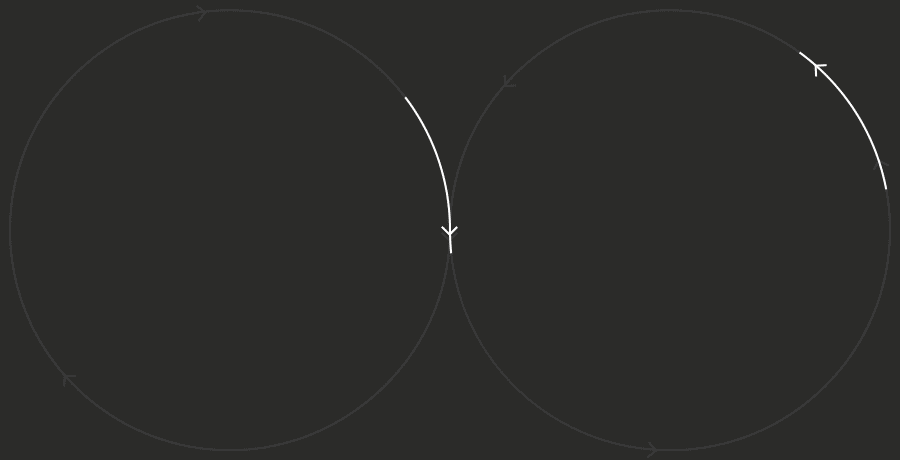 Total No Frost means no frost, anywhere!
More advanced than ordinary frost-free, the innovative Total No Frost Technology from Hisense circulates cold air evenly throughout your fridge and freezer to prevent ice crystals from forming.
More advanced than ordinary frost-free.
Intelligent and evenly distributed air system in both fridge & freezer.

No water or ice build up in fridge or freezer ever.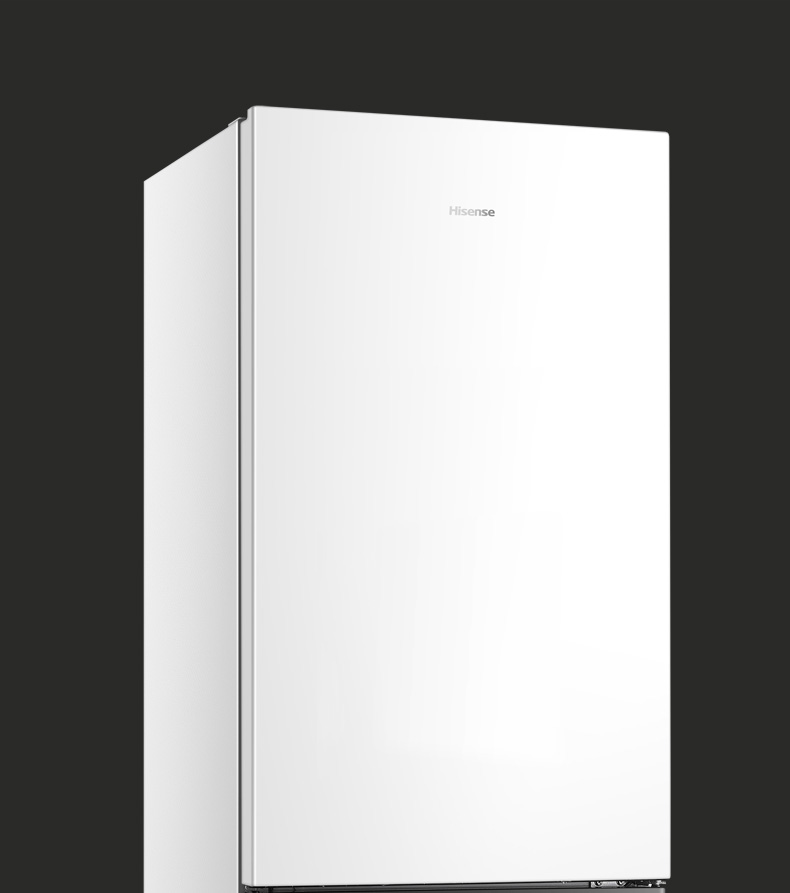 Easily control the temperature of your appliance with the simple turn of a dial.
Conveniently situated on the back panel of your fridge, the control dial allows you to easily control the temperature of your fridge.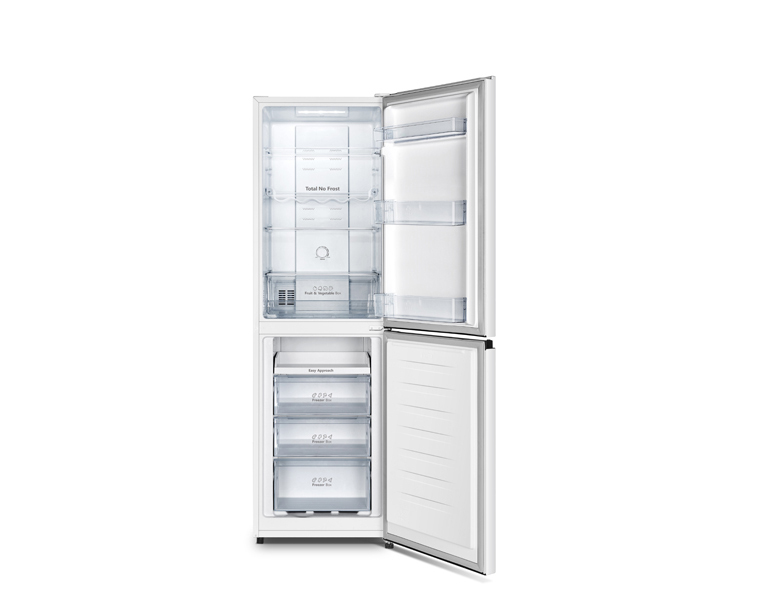 Drawers that extend further for easy access.
With an extra 100mm of opening space, organising and removing large items such as pizza boxes is effortless, even when the upper fridge door is closed.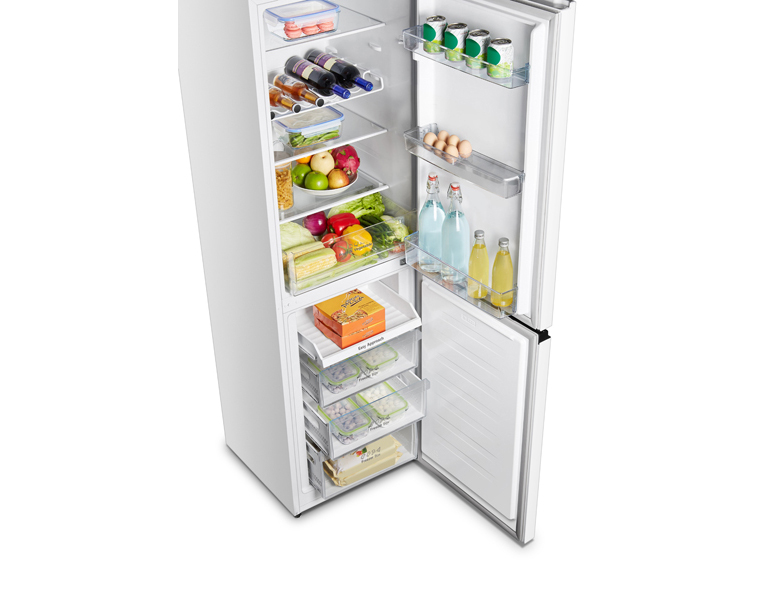 Brighter and more efficient LED lighting.
Brighter and more efficient than standard incandescent fridge bulbs, LED lighting allows you to see the contents of your fridge more clearly, while also saving energy.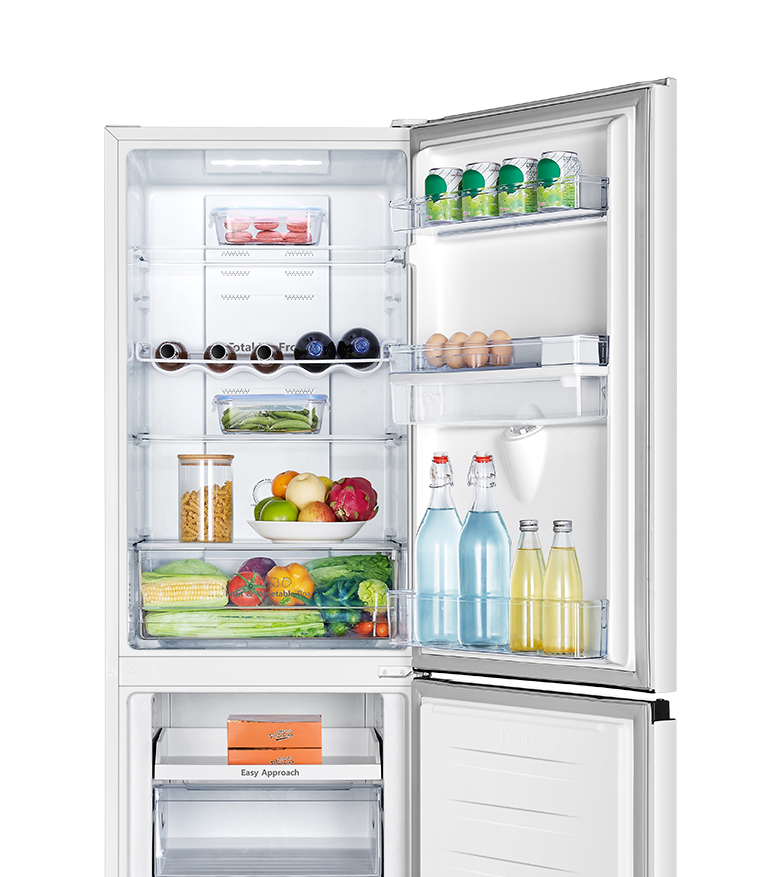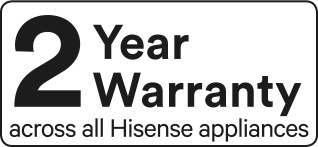 All Hisense appliances include a 2 year warranty as standard to give you complete peace of mind with a product that's built to last.
Now, here's the technical bit…
Below you'll find all the technical details of your product, such as dimensions, etc.
Dial

Temperature Control

1

Easy Access Drawer

E

Energy Class

256

Total Capacity in Litres (Nett)

226

Energy Consumption (kWh/year)

550 x 1824 x 556

Dimensions in mm's (W x H x D)
Full Specs +
Be the first to say how great
this product is.
Need to know more about supporting your fridge? See the pages below for more information.

Manuals & downloads
Discover the latest user manuals and downloads for your Hisense fridge.

Register your product
Registering your product means that, if something does go wrong, you're fully covered.

Contact
To call or email our customer service team, click the link above.
Where to buy.
Discover where to purchase your new Hisense Fridge.
Because who wants to be
out the loop?
Sign up and you'll never miss our offers, new products or updates.